Vienna R20 Conference with the participation of José Manuel Barroso
José Manuel Barroso, President of the EC, went to Vienna where he participated in the Vienna R20 conference. The President made a speech entitled "Sustainable energy: The European Union and the global agenda" on this occasion.
In his speech, the President emphasised that sustainability was deeply engrained in both the EU growth strategy (Europe2020), the proposed multiannual budget (MFF) 2014-2020 and across all EU policies. He also stressed the importance of involvement of all relevant actors, in particular both business and governments on all levels – regional, national and global, to ensure sustainable future for the planet.
Type:
College
Reference:
I-076026
Date:
01/02/2013
Duration:
04:50
Related media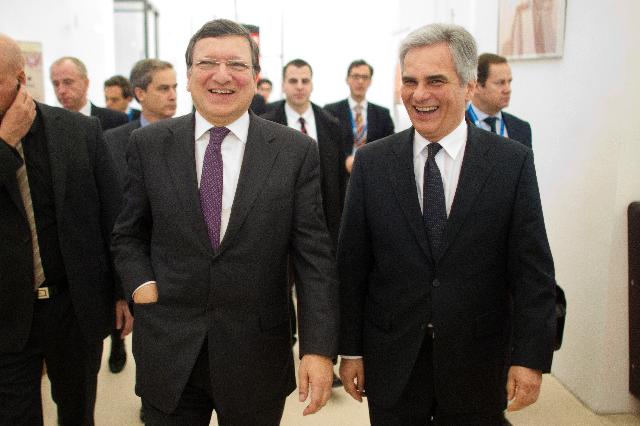 Participation of José Manuel Barroso, President of the EC, in the Vienna R20 ...
Ref:
P-022537/00-02
Date:
31/01/2013
Vienna R20 conference on "Implementing the Sustainable Energy Future": speeches ...
Ref:
I-076023
Date:
31/01/2013
Meeting between Werner Faymann, Austrian Federal Chancellor, and José Manuel ...
Ref:
I-076027
Date:
31/01/2013