EU "Sustainable Energy for All" Summit with the participation of José Manuel Barroso
José Manuel Barroso, President of the EC, participated in the EU "Sustainable Energy for all" Summit. In his opening speech the President highlighted that in the developed world adequate energy supplies were often the difference between growth and stagnation. In the developing world, they might make the difference between progress and falling behind, or even between life and death.
After the opening of the Summit, the leaders continued discussions on topics of common interest and concern. The President concluded saying that if sustainable development, environment and climate action were truly global issues, so were peace, stability and democracy. Among other issues the leaders discussed situation in Syria, Iran and Guinea-Bissau.
During the joint press conference with Ban Ki-moon, Secretary General of the United Nations, José Manuel Barroso also announced the launch of "Energising Development" a new initiative of the EC: 50 million € over the years 2013 and 2014, to stand behind and support the countries that "opt in" to the initiative and commit to the necessary reforms to spread the access and usage of sustainable energy sources.
Type:
College
Reference:
I-072977
Date:
16/04/2012
Duration:
02:41
To download, please log in
Related media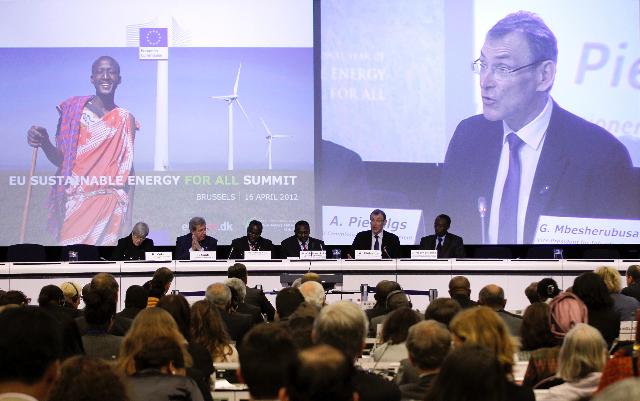 Participation of José Manuel Barroso, President of the EC, and Andris Piebalgs, ...
Ref:
P-020710/00-28
Date:
16/04/2012
EU Sustainable Energy for All Summit: EU ministerial breakfast meeting with Ban ...
Ref:
84493
Date:
16/04/2012