Women on board: joint press briefing
On 7 May 2012, Viviane Reding, Vice-President of the EC in charge of Justice, Fundamental Rights and Citizenship, participated in a press briefing on "Women on board" in Brussels with Lella Golfo, Member of the Italian Parliament, Alessia Mosca, Member of the Italian Parliament, and Federiga Bindi, Director of the Istituto Italiano di Cultura of Brussels. Viviane Reding recently complemented her initiative to obtain more gender balance in European boardrooms by joining together with Europe's leading business schools and female leaders on Corporate Boards to support their launch of a "Call to Action" to shatter the glass ceilings which impede senior women executives from acceding to corporate boardroom seats throughout Europe. Companies across Europe are picking up this message and deciding for themselves how to improve the gender balance, recruit more female talent and benefit from a potential source of sustainable growth. In 2010, women on average made up 12% of board members in the biggest publicly-listed companies across the EU. Only 3% were board chairs.

Type:
EbS
Reference:
85173
Date:
07/05/2012
Duration:
00:28:27
To download, please log in
Related media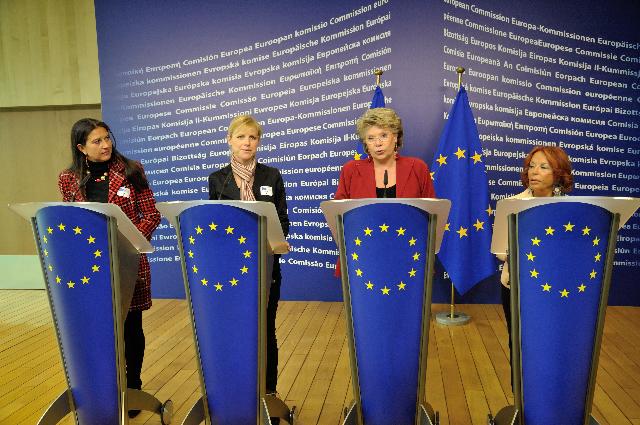 Joint press briefing by Lella Golfo and Alessia Mosca, Members of the Italian ...
Ref:
P-020860/00-01
Date:
07/05/2012