Press conference by Maroš Šefčovič on the launch of a joint transparency register for lobbyists and NGOs
At a press conference on 23 June 2011 in Brussels, Maroš Šefčovič, Vice-President of the EC in charge of Inter-Institutional Relations and Administration, presented the joint, public Transparency Register launched by the European Parliament and the European Commission in an effort to give a further boost to the transparency of the EU's decision-making process. This new register provides more information than ever before on those who seek to influence European policy. It replaces the one set up by the Commission in 2008, which already contains more than 4000 organisations. These will be gradually transferred to the Joint Transparency Register over the coming 12 months. It also extends its coverage well beyond traditional lobbyists to include law firms, NGOs, think tanks - indeed any organisation or self-employed individual engaged in influencing EU policy making and implementation. This is a key step towards the EU's goal of a more participatory democracy. Registrants will also have to provide more information than before, such as the number of staff involved in advocacy, the main legislative proposals they have covered, as well as the amount of EU funding they received. By signing up to the Transparency Register, organisations will commit to a Common Code of Conduct pledging, for example, always to identify themselves by name and the entity they work for, and not to obtain information dishonestly. A complaint mechanism and measures to be applied are also outlined for those who break the Code of Conduct.

Type:
EbS
Reference:
78394
Date:
23/06/2011
Duration:
00:13:16
To download, please log in
Related media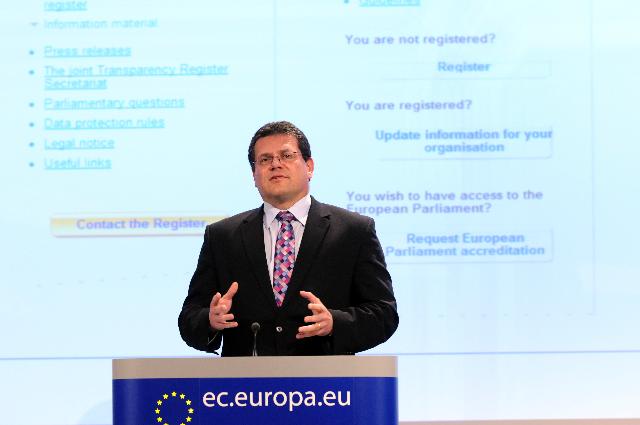 Press conference by Maroš Šefčovič, Vice-Président of the CE, on the launch of a ...
Ref:
P-019110/00-01
Date:
23/06/2011
Extracts from the press conference by Maroš Šefčovič on the launch of a joint ...
Ref:
78396
Date:
23/06/2011